We're Getting Mutants in the MCU - The Loop
Play Sound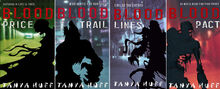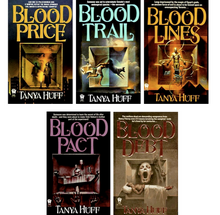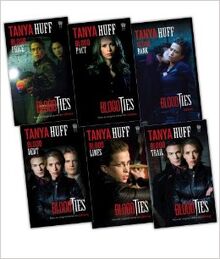 Blood Books aka The Vicki Nelson Series

[

]
This series pairs a detective with a vampire. The first book introduces Vicki Nelson, a former police officer with failing eyesight due to Retinitis Pigmentosa and Henry Fitzroy, a vampire and writer of historical romances—which is natural for him as he was Henry FitzRoy, 1st Duke of Richmond and Somerset, illegitimate son of Henry VIII before he was seduced by a vampire. She is known to her police colleagues as "Victory Nelson" for her successful record of investigations; her mother calls her by her legal given name, "Victoria". Henry's protégé, Tony, is also introduced, as well as Vicki's hard-boiled former partner on the police force, Mike Celluci. Vicki's failing eyesight disqualified her from street work and she resigned rather than take a desk job, and, at the start of the first book, is working as a private detective. Together Vicki and Henry stand against a number of supernatural threats. The series is set in Canada, mainly in Toronto, Ontario, London, Ontario and Vancouver, British Columbia. It uses familiar landmarks, down to Tony's home on "Neal Avenue" being recognizably Nealon Avenue north of Danforth Avenue.
Omnibus editions
The Blood Books, Volume I (Omnibus edition of Blood Price and Blood Trail) paperback 2006 ISBN 0-7564-0387-1.
The Blood Books, Volume II (Omnibus edition of Blood Lines and Blood Pact) paperback 2006 ISBN 0-7564-0388-X.
The Blood Books, Volume III (Omnibus edition of Blood Debt and Blood Bank) paperback 2006-09-05 ISBN 0-7564-0392-8. (does not contain Tanya Huff's TV script for "Stone Cold" from Blood Ties that was added to the 2008 reissue of Blood Bank)
Smoke Books
[
]
A follow-up to the Blood Books, featuring Tony Foster as the main character with his work in syndicated television on a show about a vampire detective.
Smoke and Shadows (hardcover 2004 ed.). ISBN 0-7564-0183-6, paperback ISBN 0-7564-0263-8.
Smoke and Mirrors (hardcover 2005 ed.). ISBN 0-7564-0262-X, paperback ISBN 0-7564-0348-0.
Smoke and Ashes (hardcover June 2006 ed.). ISBN 0-7564-0347-2, paperback ISBN 978-0-7564-0415-4.